Shoes for Social Impact: An Interview with the Chief Strategy and Impact Officer of TOMS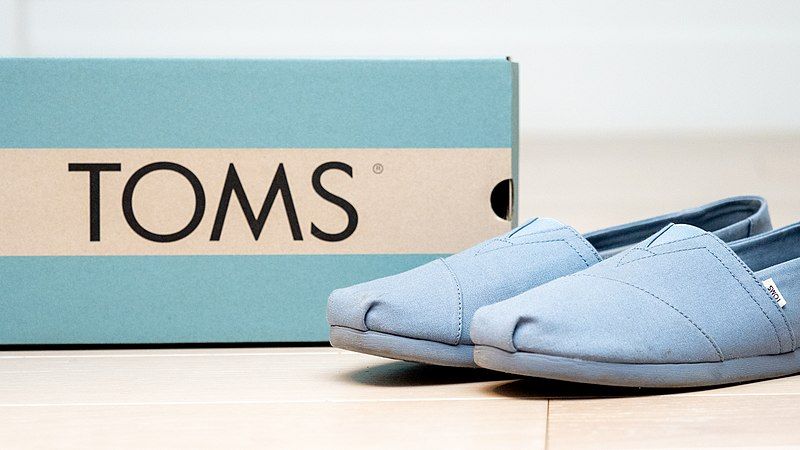 When I was ten years old, my mom and I purchased matching navy blue and floral shoes from TOMS.  I was elated; I thought it was cool to match with my mom, but I also was happy that TOMS would donate a pair of shoes to a child in need.  For the last 15 years, TOMS has served as a leader in corporate social impact.  Not only has the shoe company served as a leader for other corporations, but it also underscores the importance of ethical consumption.  The Giving Team at TOMS has contributed to the rise of consumer attention toward corporate social responsibility when spending money.

TOMS was founded with its initial "One for One" model but over the last year evolved their giving model to also include impact grants to support specific grassroots organizations.  The company is at the forefront of innovating its giving model as it continuously strives to understand how impact investing can be more effective and socially conscious.

Amy Smith, the Chief Strategy and Impact Officer of TOMS, leads the company's corporate and strategy impact while also managing TOMS environmental sustainability efforts, B Corp certification, and employee engagement.  In this interview, she discusses the important role of social impact in the TOMS business model and the increasing presence of social responsibility in corporate America.
---
To start off, can you give our readers a background on TOMS' corporate social responsibility model and on how the "One for One" idea originated?
TOMS was founded by Blake Mycoskie 14 years ago with the idea to give shoes to children who were without them. This was the start of the now widely known "One for One'' model, in which every pair of shoes purchased led to a pair given to a child in need. This idea of profit and purpose shaped an entire industry and we are so proud to have been the catalyst for the movement.  After 14 years we have learned a lot, we have given almost 100M pairs of shoes and we have developed deep partnerships with our Giving Partners around the globe. Over the last few years needs have evolved. We've asked ourselves could we do more?   Last year, we shifted our giving model to give 1/3 of our net profits to organizations that are working to create positive change. That means that for every $3 we make, we give $1 away in the form of impact grants to fuel meaningful work.
How do you identify Giving Partners?
Our giving platform focuses on Mental Health, Ending Gun Violence and Access to Opportunity. Giving Partners are chosen based on these impact areas, which are the areas of focus where we feel TOMS can make the most impact. Our in-house giving team thoroughly vets all new potential partners by looking at the work they focus on, the communities they serve, and if TOMS' giving model would effectively support the work they do. Our Giving Partners are experts in their areas of focus and they are on the ground, doing the work everyday, so we work to support and lift up the voices of these experts and follow their lead - it's a very grassroots approach.
There are so many important humanitarian issues vying for our attention, and even more so this year with challenges stemming from the pandemic, US political instability,  and the racial justice crisis. How did you determine TOMS' response?
While my job at TOMS is centered around impact, last year was a uniquely challenging one, there is no doubt about that. At TOMS we've had to make a lot of pivots in our plans to adapt to the needs of these unprecedented times. Our evolved giving model gave us the flexibility to direct resources where they were most urgently needed, like the frontlines of the global health crisis, as well as the frontlines of the movement for racial justice. In response to the worldwide health crisis, we developed the TOMS COVID-19 Global Giving Fund. Over the course of 5 months, we directed ⅓ of our net profits to organizations combating COVID-19. Thanks to our incredible customers, the Global Giving Fund generated $2 Million.  Those funds are being distributed to Giving Partners that are directly responding to COVID-19—both at home and abroad— through mental health support, hand washing, and medical supplies in under resourced communities. As you mentioned, we were faced with several other pressing issues in 2020.  We are constantly listening to our customers, Giving Partners, and employees in order to address issues where we can support and provide meaningful impact. We are currently in the process of distributing over $100,000 to organizations that are working to create racial justice and equity.  Finally, it was more important than even to engage voters for the November 2020 election.  We partnered with Vote.org to encourage people to use their voice. We offered a suite of tools on the TOMS website encouraging visitors to register to vote, check their registration status, request an absentee ballot, see each state's specific mail in deadlines, and sign up for election reminders.  We are proud to see a record voter turnout in this election! Across all issues, we feel it is very important to listen to our partners and understand how our support can best help with what is most needed in the communities they serve. This obviously added to the work we do as a company, but we felt it was essential to take a stand on these issues in such a trying year for everyone.
What are short term and long term goals for the Giving Team?
As a giving team our core goal to create the most positive impact we can with the resources available to us through customers' purchases of TOMS products. As 2020 has shown us, needs are always changing, so instead of getting too focused on predetermined goals we work to develop an annual giving strategy grounded in the needs and realities of our partners, the causes our community cares most about, and the areas where we feel we can have the most meaningful impact in the US and internationally. This gives our work structure while still allowing ample flexibility to quickly respond to evolving needs.
There are many issues abroad that demand action, but there are also serious issues within the United States that need attention.  The 2019 Impact report states that shoes are given to 38 U.S. states and TOMS is involved with the March for Our Lives gun control movement. How did TOMS become more involved in domestic issues?
Gun violence is a serious issue we face here in the US.  100 people per day in the US lose their lives to gun violence and thousands more are injured.  We recognized that we were in a position to help address this horrible epidemic that continually affects many of us as it's happening in our hometowns.  In 2018, we launched the End Gun Violence Together campaign with the goal to help end the gun violence epidemic in America.  We committed to give $5 million to organizations across the country that are addressing the complex nature of gun violence through various tactics including programming in communities of color, mental health, research and policy, suicide prevention, and more. We are proud to work with Giving Partners both domestically and internationally, to create worldwide change.  In addition to the financial commitment, we also called on Americans to send a postcard to congress to advocate for universal background checks on the purchases of firearms.  In the following months, more than 700,000 people from every corner of the country heard that call to action and visited TOMS.com to join the campaign and send a postcard.   In January, TOMS embarked on a cross country road trip to meet with impacted communities and to bring the postcards from TOMS HQ to Washington D.C.  TOMS called on everyone to join us for the End Gun Violence Together Day of Action on the steps of Capitol Hill  to help hand deliver the postcards advocating for H.R. 8, the Bipartisan Background Checks Act of 2019, to our representatives. At the end of February, HR 8, the bill that would require a background check for EVERY firearm sale was passed by the House of Representatives.  There is still a lot of work to be done in this space and we are committed to continuing to support and make change.
What was the process of changing TOMS' giving model?
It's no secret that the world is changing, so we spent a lot of time asking ourselves some tough questions about our impact. Mainly, "Are we doing all we can with the resources that we have?" I've thought a lot about what it means to have built a movement, as well as the opportunity, or maybe more accurately obligation, to innovate and evolve.  After a ton of research and a bit of soul searching, we made the bold decision to decouple our impact from our original One for One® model.  Now, for every $3 we make, we give $1 away. We're focused on supporting grassroots organizations that are working on innovative ways to build a more equitable future through physical safety, mental health, and access to opportunity. As you might imagine, we didn't make this decision lightly.  And candidly, we're still figuring it all out. But, we know that this is the right next step for TOMS, and we can't wait to see how our community will continue to show up in new and meaningful ways, will continue to do the same
How do you think in the future social impact can take more of a role in corporate America?
We have done a lot of research and we know that doing good is also good for business, so corporate America should be taking note. Over half the people on the planet now say that a company's stand on societal issues impact their willingness to purchase from that brand. I think that in the future, social impact will increasingly play a larger role in the day-to-day of business—because shoppers are increasingly looking to buy from brands that align with their values.  I'm proud that TOMS has inspired many other businesses to incorporate social impact into their business model.  I hope that as TOMS giving evolves and we continue to push the boundaries, this will encourage more companies to continue to keep giving at the forefront of everything they do.  

Why do you think impact investing, rather than corporate philanthropy after profits are collected, is a better model?
At TOMS, giving is built into the DNA of our company and our impact is directly intertwined to the purchases of our products.  It is at the center of everything we do and every employee has a hand in how we create impact.  This ensures that when times get tough or sales aren't what they were projected to be, we remain committed to our give.  More and more companies are starting with purpose in mind.  I think that's the best, easiest, most authentic way to give but you have to be committed to your model always.  We have found that in order to make this work, there are several elements that need to be priority:
Remain grounded in our mission and purpose - this is easy to say but more difficult to do.
Consider our stakeholders –– not just your shareholders
Get buy in from the top –– Our leadership team understands and is committed to our giving
Employ a full team of experts in impact - this work can't be someone's part time or off the edge of their desk assignment.  It won't work.
Build deep relationships with the experts at the NGO that we work with - we can create more impact when we learn from our partners and take their lead
How are you empowering your customers to influence where their dollars from their purchases go?
We know that customers are voting their values and beliefs with their dollars, so we focus on sharing the stories of our giving partners who are on the ground doing the work.   We listen to our customers, respond to their feedback, and provide them with resources to get involved in the TOMS community and in their local communities.  It's going to take all of us to build a better tomorrow - one where everyone has a chance to thrive.