Sustainable Architecture: Net-Zero Design and Energy Efficiency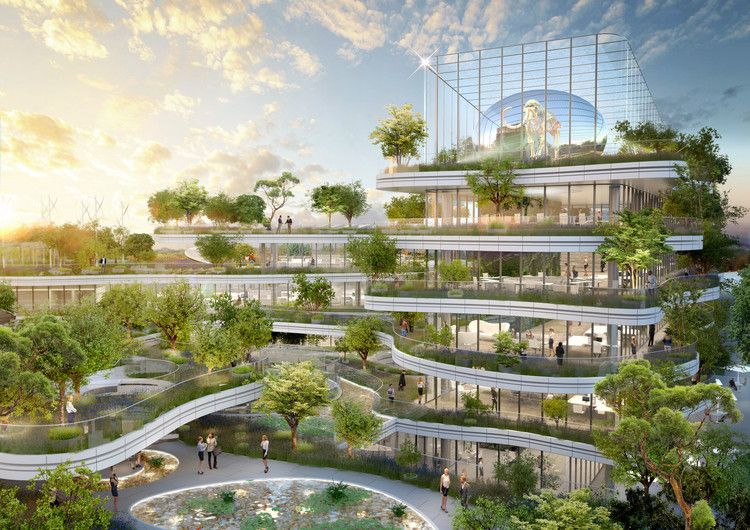 Sustainability is quite simple. We depend on our natural  environment to provide us with everything we need to survive. Sustainability is an effort to preserve the future by addressing the threats to our natural environment in the present. One of the biggest challenges being faced today is successfully reducing global CO2 emissions, and with buildings generating nearly 40% of annual global CO2 emissions, it is necessary to acknowledge the need for sustainable design practices.
Sustainable design practices reduce CO2 emissions and minimise the adverse effects of construction on the environment. The aim is to create buildings which have as little impact on the surrounding ecosystem and biodiversity as possible. Another advantage of adopting sustainable design practices is energy efficiency which is achieved by decarbonisation of the building's energy supply i.e. reducing carbon-based energy consumption by generating renewable energy on-sight and by procuring locally generated renewable energy.
This new direction for green architecture has been labelled as 'Zero-net Carbon Design.'
A shining example of Zero-net Carbon Design is the 'Unisphere' in Maryland, USA which is the largest net-zero commercial building in the US with no operational carbon footprint. The building is powered completely by renewable energy and is an embodiment of the sustainable design practices which are essential for the future of architecture. The Unisphere achieved its Zero-net Carbon status by incorporating innovative energy-saving strategies into its design. With 3000 solar panels, a quarter-mile long underground concrete maze which moderates temperature and acts as a natural ventilation system, and 52 geo-exchange wells, the building generates excess power during peak production which it then utilises at night/off-peak times.
The move towards sustainable building is occurring on a global scale. The U.S. Green Building Council released their list of top 10 countries and regions (outside the US) for LEED i.e. Leadership in Energy and Environmental Design which is the most widely used Green building rating system in the world. Mainland China, Canada and India topped the lost with a combined total of 1428 LEED projects in 2021.
Another interesting example of Zero-net Carbon building is Avasara Academy in India. This 4.3 acre residential school campus achieved net-zero by combining vernacular design with modern architecture. All of the structures follow a simplistic design (a simple grid of beams and columns) which effectively creates spaces with an open feel. The materials used included reclaimed wood, composite marble created using waste glass, and mosaics using waste stone pieces. The design prioritises conservation of natural resources and implements sustainable practices such as rainwater harvesting, bioremediation of waste water, and installing earth ducts and solar chimneys to moderate temperature. With photovoltaic cells, solar water heaters, and strategic placement of classrooms/residential spaces to avoid direct sun and offer rain protection, the Avasara Academy proves that sustainable design practices can effectively create a comfortable environment while reducing energy demand even in a large residential space.
Besides the environmental benefits, green building also has positive social impacts. Healthy structures encourage healthy lifestyles. Due to improved air and water quality, residents of environmentally friendly buildings often have better overall health. Natural materials, especially wood, can help to lower blood pressure, increase energy, improve focus and lead to a healthier immune system. Employees in LEED green buildings are reportedly happier, healthier and more productive. Now more than ever, people want to work and live in spaces that promote a higher standard of living and prioritise environmental and human sustainability.