Touring in "Style": Eras Tour Projected to Provide Boost to International Cities' Working Class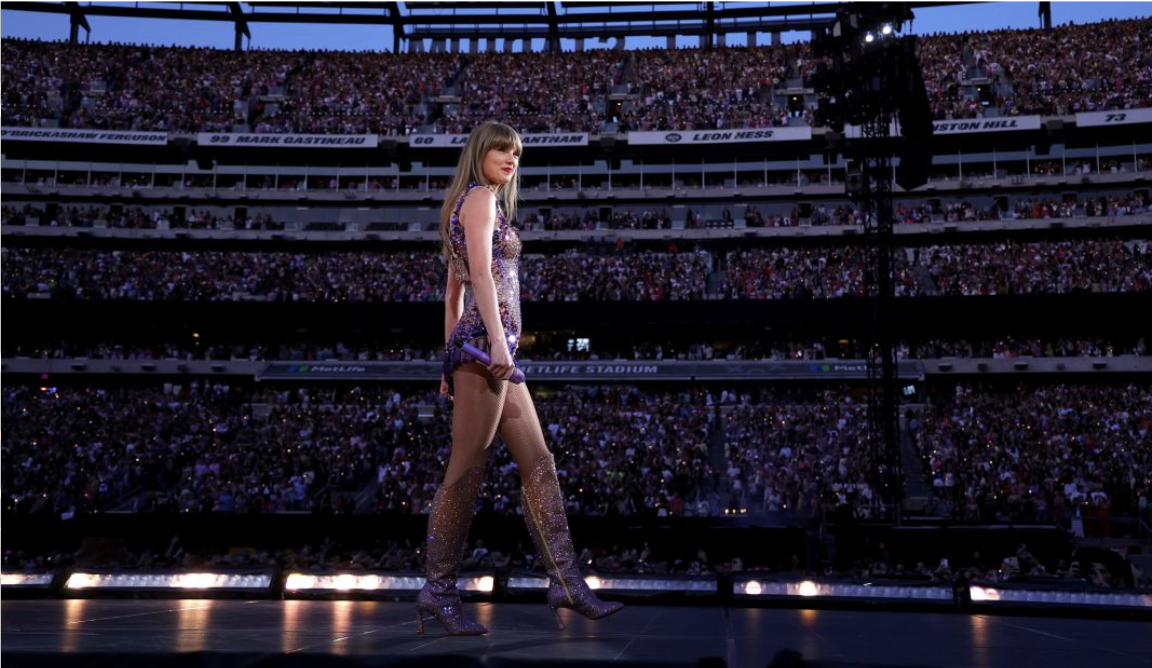 Never in Swift's 'Wildest Dreams' would she expect to single-handedly elevate the global working class economy.
Taylor Swift's Eras Tour will be one of – if not the highest – grossing tours in history, reaching 5 continents over 146 nights (Dellatto 2023) (Swifters 2.0 2023). After a highly-successful first leg in the United States, Swifties around the world are gearing up for more shows following a months-long break. Not only can we expect Swift to change the lives of the Swifties she will sing for, but also the blue-collar workers of every country she will visit. Ed Tiryakian, professor of finance and business economics at Duke University, projects the total monetary impact of the Eras Tour to be between $55-85 billion US dollars (Browning 2023).
In her first international stop, Mexico City, the "Shake It Off" singer's tour has already demonstrated its powerful economic impact. Mexico City's Chamber of Commerce, Services and Tourism projected businesses in the area would receive approximately 981 million pesos – 16.6 million US dollars – in revenue. The tourism industry overall would earn 8 million pesos (approximately $472 thousand USD), with lodging services bringing in 5.5 million pesos (approximately 325 thousand USD)  (MND Staff 2023).  The business her tour attracts entails more job opportunities, boosting the overall financial status of the labor class. As the U.S. Travel Association reports, the typical Swiftie "averaged $1,300 of spending in local economies on travel, hotel stays, food, as well as merchandise and costumes" (Szyf 2023). Swift will uplift the service workers of the cities she will visit, who work in hotels, concert venues, the travel industry, and restaurants in the area. The Eras Tour is not just another musical event; it is an economic powerhouse. Seeing that the first stop of the international leg alone generated one billion pesos in revenue, one can expect to see equivalent if not increasing economic successes in other countries Swift visits (MND Staff 2023).
In fact, international airlines have already started preparing for Swift's concerts. Air New Zealand reports a "Swift surge" of individuals booking flights to Melbourne and Sydney right around Taylor Swift's visits to those cities, adding 14 more flights, the Robb Report writes. Some of the flights even bore the code NZ1989 in honor of Swift's fifth album (Latham 2023). The addition of flights will inevitably create more job opportunities.
Internationally, Swift's tour has already and will continue to pour millions into local economies. On her domestic leg, we saw 'Nothing New.'
J. B. Pritzker, the current governor of Illinois, lauded Swift for helping to break the all-time hotel records for highest occupancy during her June visit to Chicago (O'Kane 2023). The trend did not stop there; Swift has lifted the feet off the ground of essentially every single city she has toured thus far.
Pittsburgh, where Swift only performed for two nights, still recorded the highest weekend occupancy in hotels since the pandemic and the second-highest weekend occupancy ever for the city. This statistic comes as no surprise, as 83% of the concert attendees hailed from outside Allegheny County which contains Pittsburgh. (Szyf 2023). In Cincinnati, Swifties contributed an estimated $48 million to the state's economy, "of which $20 million was from out of town guests" (BEA 2023) (Szyf 2023).
In general, every $100 spent on a concert ticket entails an additional $300 going to local businesses near the venue, like hotels and dining establishments, TIME analysts explain (Kopstein and Espada 2023). A Swiftie's expenditures during a tour weekend "is on par with the Super Bowl, but this time it happened on 53 different nights in 20 different locations over the course of five months. Downtowns across the country have enjoyed an influx of visitors—and a spending boost thanks to Taylor Swift" (Szyf 2023). For cities in need of a bounce-back for their tourism and for individuals looking for employment, a weekend with Taylor Swift may be just the solution.
The Anti-Hero singer's care for her tour workers will also almost certainly continue into the international segment. Swift gifted $100,000 US Dollars to each of her truck drivers — nearly 50 in total — for the first leg of her tour. Clearly, she knows a thing or two about "Karma." Giving such a large sum of money to working-class individuals entails worlds of opportunities: down payments for homes or college tuition. "Fair wage doesn't put you in a position to buy a home. But this opens up that possibility," Michael Scherkenbach, founder and CEO of the trucking company that Swift employed on her tour, expressed (Bhatnagar 2023).
The Eras Tour may be one authentic example of "trickle-down economics." The multi-millionaire's success has uplifted the working class of every city she has visited and will continue to do so. Seeing that Swift has positively impacted the labor economies of virtually every city she has toured, we can expect these cities to "Say Don't Go."
References
BEA. 2023. "Per capita GDP by metro area U.S. 2021." Statista, August 29, 2023. https://www.statista.com/statistics/248112/per-capita-us-real-gross-domestic-product-gdp-by-metro-area/.
Bhatnagar, Parija. 2023. "Taylor Swift gives 'life-changing' $100,000 bonuses to Eras Tour truck drivers." CNN. https://www.cnn.com/2023/08/02/business/taylor-swift-100000-life-changing-bonus-truck-crew/index.html.
Browning, Lynnley. 2023. "Taylor Swift's 'Eras' Tour, With Potential $80 Billion Impact, Could Boost the Global Economy Beyond Anyone's 'Wildest Dreams' (Exclusive)." The Messenger, October 9, 2023. https://themessenger.com/business/taylor-swift-eras-tour-80-billion-global-economic-impact-exclusive.
Dellatto, Marisa. 2023. "The Top-Earning Summer Concert Tours Of 2023." Forbes, October 15, 2023. https://www.forbes.com/sites/marisadellatto/2023/10/13/the-top-earning-summer-concert-tours-2023-taylor-swift-beyonce/?sh=5748cc5a707c.
Kopstein, Jeannie, and Mariah Espada. 2023. "Why Taylor Swift's Eras Tour Has Made So Much Money | TIME." Time, August 23, 2023. https://time.com/6307420/taylor-swift-eras-tour-money-economy/.
Latham, Tori. 2023. "Taylor Swift's Eras Tour Is Helping Economies Across the United States – Robb Report." Robb Report, July 24, 2023. https://robbreport.com/lifestyle/news/taylor-swift-eras-tour-economy-1234871816/.
MND Staff. 2023. "Taylor Swift's CDMX concerts expected to generate over 1B pesos in revenue." Mexico News Daily, August 23, 2023. https://mexiconewsdaily.com/lifestyle/taylor-swift-cdmx-concerts-expected-to-generate-over-1b-pesos-in-revenue/.
O'Kane, Caitlin. 2023. "The Federal Reserve says Taylor Swift's Eras Tour boosted the economy. One market research firm estimates she could add $5 billion." CBS News, July 18, 2023. https://www.cbsnews.com/news/taylor-swift-eras-tour-boosted-economy-tourism-federal-reserve-how-much-money-made/.
Rosenbloom, Alli. 2023. "After months of waiting, I finally made it to Taylor Swift's 'Eras' tour. This is what it was like." CNN, August 11, 2023. https://www.cnn.com/2023/08/10/entertainment/inside-taylor-swift-eras-tour/index.html.
Swifters 2.0. 2023. "Taylor Swift's The Eras Tour poster with all 146 dates." Facebook. https://www.facebook.com/photo.php?fbid=829732078724331&id=100050626383271&set=a.581504093547132.
Szyf, Aaron. 2023. "The Taylor Swift Impact – 5 Months and $5+ Billion." U.S. Travel Association, September 19, 2023. https://www.ustravel.org/news/taylor-swift-impact-5-months-and-5-billion.